Okay, here is something fun I like to do every once in a while. This week the questions are pretty simple to answer. And simple is good for my brain right now.
If you'd like to join in just check it out Five Question Friday here: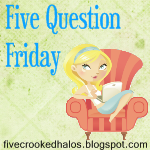 1. Did you pass your driver's test on the first try?
Hmm, let me think. It seems so long ago...Yes I did. I happen to be a pretty good driver. Of course, learning how to drive in Houston probably helped some.
2. What is your most embarrassing moment?
Gosh, I'm sure I have one. It's just not coming to me right now. Or maybe it hasn't happened yet...yikes!
3. What TV show would you like to be on- Oprah, Biggest Loser, or What Not to Wear?
Uh, no question about this one. For sure it would be What Not to Wear!!! I love those sylists on that show. Maybe I'll start dressing really ridiculous like and ask a friend of mine to nominate me. That way, I can take care of question 2 above while I'm at it.
4. Would you ever get plastic surgery and what kind?
Yes, I actually think I would. My tummy is just not the same after having 3 boys, weighing in at 8+ pounds. I have a bit of extra skin I'd like to get rid of. I'll stop there. I don't want to be all TMI and gross you out. I mean whoa! Look at that pregnant belly...
This was the day our second son was born.
5. What are your favorite jeans to wear?
I have two pairs I love wearing. One is a pair of Citizens for Humanity jeans and the other 7 for all Mankind. They just have a super fit. *Note: I only own these jeans because they were hand-me-downs from a sweet friend of mine. Thankyouverymuch.
To all my tens of readers (if it's even that many)...Have a super fantastic weekend.